GRIB Viewer
What the users have said:
I'm pleased that you were able to work with us and develop your software to process additional information which will be useful for our forecast operations as the National Meteorological Service for the Isle of Man - Alan Hisscott Senior Meteorological Officer Isle of Man Meteorological Office.
Thank you very much, the results are splendid. Your GRIB Viewer is a very useful piece of software - Nicola Sebastiani, Alessandria, Italy. http://www.scsebnic.net

Download the GRIB Viewer


Register the GRIB Viewer - please help support continued development
What is the GRIB Viewer?
The GRIB Viewer version 2 visualises the GRIB data broadcast over the DWDSAT system, and data from the Norway & Danish and Météo France OSI-SAF broadcast over EUMETCast. You can also visit the Yahoo DWDSAT group to exchange ideas with other DWDSAT users, and the MSG-1 self-help group to discuss EUMETCast data products.
What data does it read?
DWDSAT GRIB data available from the EUMETCast system (as used for Meteosat-8/9 reception). Most data is free, however you still need to register with DWD (or perhaps EUMETSAT). Some DWDSAT data is a separately paid-for service from DWD.
Norway and Denmark OSI-SAF sea-ice products

Sea-ice edge, type and concentration, in 10 km resolution polar stereographic grid covering the Atlantic part of the Arctic broadcast over EUMETCast (S-OSI_-NOR)
Northern hemisphere sea-ice over FTP (ICE_CONC_NH)
Southern hemisphere sea-ice over FTP (ICE_CONC_SH)

Météo France OSI-SAF products

Low and Medium Latitudes Downward Longwave Irradiance (LML DLI)
Low and Medium Latitudes Solar Surface Irradiance (LML SSI)
Low and Medium Latitudes Sea-Surface Temperature (LML SST)
Merged Atlantic Products Downward Longwave Irradiance (MAP DLI)
Merged Atlantic Products Solar Surface Irradiance (MAP SSI)
North Atlantic & Regional seas Sea-Surface Temperature (7 areas) (NAR SST)

EUMETSAT MPE (Multi-sensor Precipitation Estimate) data available over EUMETCast and online here. There are 2/4 files per hour per satellite; each file is about 800 KB size. This data covers both the Meteosat-7 (Indian Ocean) and Meteosat-8/9 (Europe, Africa and some South America) regions. More information about EUMETSAT products.
EUMETSAT CLAI (cloud analysis image), CTH (cloud-top height), and DIV (divergence) data sent over EUMETCast.
GRIB files produced in connection with the MaxSea service.
What do the results look like?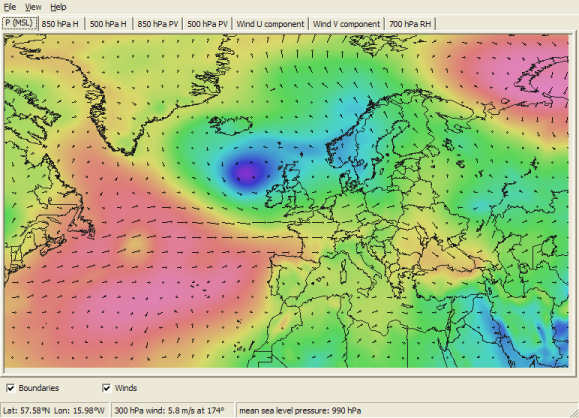 Sample from the DWDSAT data stream
Can I register and what do I get?
The program as downloaded provides a 30-day trial licence period to allow you to evaluate its function. After the 30-day period, you will need to register to continue running the program.

V4.0.2
More choice of boundary colours from the command-line (-BOUND:<none|black|dark|light|white>), add annotation to snapshot for MPE data, add scale to DIV data and the snapshot, support BZ2 files, limited support ICON TOT_PREC, WW and VMAX files.
V4.0.2
Support H-SAF H15 data.

For existing users, if you don't have a GRIB Viewer 4 key, you can purchase a licence upgrade here.
Download the GRIB Viewer V4.0.4 (1,825,456 bytes; 2016-Sep-26)
MD5 signature: 037FA2052876A882D8EB2680A5419B1A

Visit the SatSignal self-help group to discuss this software with other users
Please note that this download includes a 30-day trial of the full GRIB Viewer. If you don't register within 30 days the program ceases working.
Register the GRIB Viewer - please help support continued development
If you don't already have my runtime Library Bundle, please download and install it (do this if you get messages about missing DLLs when trying to run the program).
For country outlines, you can use the file Countries.dat, which may already be on your PC or you can download it here (460KB).